WHY ENHANCE YOUR LISTING PHOTOS?
MY 10 STEP ENHANCEMENT PROCESS INCLUDES
White balancing allows objects that are white in person to be rendered white in the photo show the property in its best light. White balancing will remove yellowed or off-white discoloration and create a bright, crisp image.
Image sharpening is an important process to ensure your photos are top quality with a professional finish. Sharpening the image emphasizes the texture and improves the overall quality of your photo.
Vertical/Horizontal Straightening
A great photo is all about composition. An image with a wonky horizon can look unprofessional, and with incorrect vertical lines image looks distorted. Correcting these issues will make photo pleasing to the eye.
It can happen; a blob, mark or dirty finger print. Spots, dots and blemishes can all be removed to help create a flawless photo.
Brightness Contrast Adjustment
Adjusting these elements will create depth, making the photo more engaging and inviting the viewer into the image.
Don't let a gloomy day ruin your photos. The Hako Foto Team can replace a cloudy day with a beautiful sunset or clear, blue skies to show potential buyers just how stunning the view can be.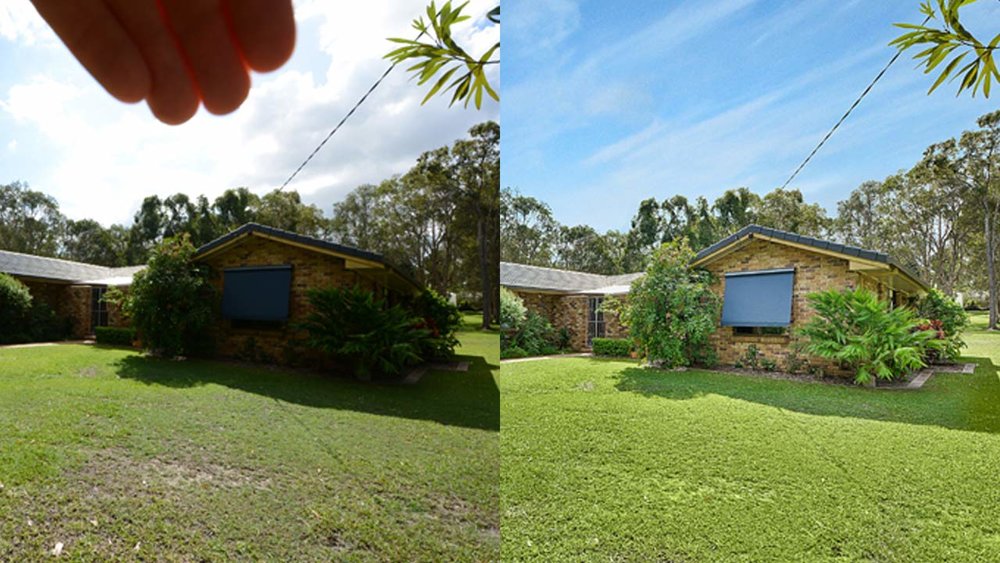 A perfect lawn is important when selling a home because it adds to the curb appeal. Repairing a lawn or replacing sections can show potential buyers just how great the lawn can be.
This is a great tool to add a dramatic effect to an image or a light mood, depending on the type of photo. When it comes to selling property, the correct tone will help an image appear bright and welcoming.
An Empty black box is unappealing in a beautiful lounge room, so replacing the blank screen with a beautiful image can really enhance the photo and the mood of the room.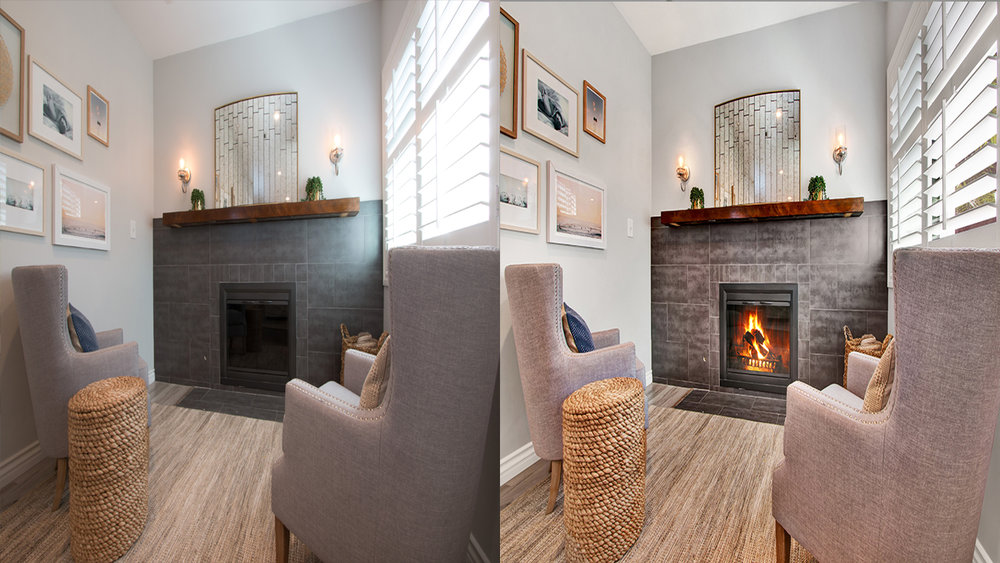 Show just how cozy and inviting a room can be by adding a warming fire in the fireplace. Adding a fire always grabs the viewer's attention and is likely to evoke homely feelings of comfort.
Are You Ready To Schedule A Shoot?